Diablo Black Men's Group Holiday Party - 2008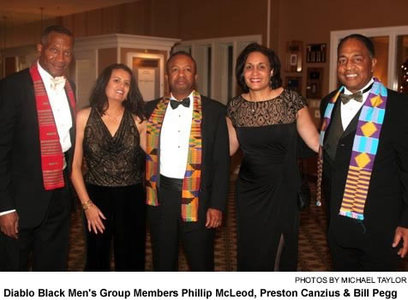 Every year, the Diablo Black Men's Group gathers for a holiday party to recognize the significance of African Americans in Contra Costa County. Their numbers are small—just about 2 percent of the total population in the San Ramon Valley, where their organization is based, but their members are active—as professionals, parents, and community volunteers.

"Because there are so few African-Americans living in the Danville and San Ramon area, the DBMG holds similar events throughout the year to give African-Americans a venue to socialize and be among other people like themselves," said Robert Bogle, chair of the organization. "Eighty percent of our membership lives along the Interstate 680 corridor, and because we are a small minority in this area, the DBMG makes it possible for us to get together, fellowship and bond."

DBMG began in the mid 1990s as a social networking group for local African American men. The organization is dedicated to enhancing the lives of its members and their families and to contributing to the suburban communities in which they live. The group has promoted prostate cancer awareness and screening in collaboration with the Summit Ethnic Health Institute and the American Cancer Society. It also helps socially and economically challenged Bay Area youth pursue cultural and educational opportunities through its scholarship program.

This year's gala was held December 6 at the Crow Canyon Country Club. Some 200 DBMG members and guests attended. This year's theme was to celebrate fatherhood. This year's program booklet featured photos and stories written by members honoring and acknowledging their fathers. The gala also helped raise money to support scholarships for promising, African-American high school students. Specifically, Wells Fargo Private Banking donated $5,000, and Nissan Corporation donated $2,500.


---